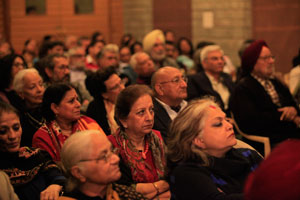 Our Star Cast – We Cannot Thank You Enough
Anand Kumar Sethi, an alumnus of  IIT, Bombay has some four decades of active involvement in international joint ventures and business. Dr. Sethi has been an advisor to several international development Financial Institutions . In December 2011, the President of Finland  conferred upon  him the honour of Knight of the order of 'the white rose of Finland'. An established writer, he is very actively involved in its cleaning up and 'renewal' of the many historical sites there. With an abiding interest in history, Anand has curated and furnished exhibits in the setting up of the DAGSHAI JAIL MUSEUM now designated as a heritage site by Himachal Tourism.
Aparna Anantha Narayan, married to the man in Olive Greens, has enjoyed living in different parts of this wonderful country.   A home  maker,she   uses  her  time to work from home in the field of education. The last year and a half in Kasauli has been very exciting for her and  she finds this place truly enchanting.
Ashok Chopra is the CEO and MD of Hay House Publishing in India. He is a long time resident of Kasauli and HimachalPradesh.
Ashima Bath is the Head of Faculty, English and coordinator for Training and Development, staff and students, at The Lawrence School, Sanawar. She has co-authored three books on English Language.
Bachi Karkariais the writer behind the satirical column Erratica and its cheeky sign-off character, Alec Smart. It has had a growing league of followers since 1994, when the column began.It now appears on the edit page of The Times of India every Friday.
Bachi Karkaria also writes Giving Gyan in the Mumbai Mirror and its fellow publications in other cities. It is a shooting-from-the-lip advice column to the lovelorn and otherwise torn, telling them to stop cribbing and start living—all in her her branded pithy, witty style. She is author of Dare To Dream: A Life of M.S. Oberoi, and several other books.
Bachi was the first Indian on the board of the World Editors Forum, is a recipient of the US-based Mary Morgan-Hewitt Award for Lifetime Achievement, and a Jefferson Fellow of the East West Centre, Honolulu. She is on the advisory boards of the National AIDS Control Organisation and the India AIDS Initiative of theBill & Melinda Gates Foundation.
Bhaichand Patel has lived in Fiji, London, New York, Caracas, Cairo, Jerusalem, Manila, Bombay and New Delhi. Spirits and wines have always been his travelling companions. A graduate of London School of Economics, Bhaichand has served before the bar as a barrister, and behind the bar as a bartender. He has written Chasing the Good Life and  Bollywood's Top 20.
Deepti Naval, acclaimed actor, poet, painter and photographer Deepti Naval's book 'The Mad Tibetan- Stories From Then And Now' was launched by Amitabh Bachchan. It is a collection of short stories said to be based on her personal experiences. The novel not only displays her talent as a writer but also as a painter. Each story begins with one of her paintings and carries a visual and emotional impact.
After her Bachelor's degree in Fine Arts at Hunter College, City University of New York , she started her film career in 1977 and was recognized as the 2007 Tribute Honoree of the Indian Film Festival of Los Angeles. She is also a film director.
Gillian Wright, is a writer and translator living in Delhi. She has translated several modern Hindi classics into English. "Raag Darbari is not widely read in Delhi society and you'd be hard-pressed to find anyone who had heard of it or its author at the average dinner party. The latest English novels, on the other hand, are a favourite subject for discussion. But no novel I have ever read in English comes close to capturing life in an ordinary north Indian village, whereas the smell of the earth of Uttar Pradesh emanates from every page of Raag Darbari'". Well, thanks to the lively Gillian, Raag Darbari is now talked about in the cocktail circuit.
Dr. Harish Dhillon taught English for forty-seven years, and is finally at an age where he can choose when to work and what to work on. As result, he lives in the rustic isolation of Dharampur, in the Shimla Hills, with his two dogs. His short stories have been published in various magazines and journals, and some of them have also been translated into various regional languages. He has two novels and two anthologies of short stories to his credit, as well as a collection of essays on Indian writers in English. His books,Lives and Teachings of the Sikh Gurus and Love Stories from Punjab are both doing well.
He did his schooling at the Lawrence School, Sanawar. He later became headmaster at Sanawar and then moved to Yadavindra Public School, Mohali.
Inderjit Badhwar, one of America's leading investigative journalists , also worked as a correspondent for ABC-TV. In 1976  he won the National Civil Service League Award. He  served as Director of Information of the National Citizens Committee for Broadcasting, an NGO.  Among the books produced and edited were Lester Markel's "Public Opinion" and Adam Yarmolinsky's "Military Industrial Complex."
The Khushwant Singh Literary Festival is dedicated to the  Indian soldier. So also Badhwar's most recent book "Assault on Merit" celebrates the Indian soldier.  As editor of India  Today, he exposed the forest mafias in  Himachal and helped nourish the environmentalist movement  here by joining founder BK Nehru as a prime mover of SPOKE, Society for Protection of Kasauli Environment, that won a huge pro-green decision in the High Court.
Juggi Bhasin did  Masters, English Literature Delhi University.  He joined Doordarshan News in 1987 as a television journalist.  He has researched extensively for this book, Terrorist  by drawing on his own experiences as well as those of others. He has also been a Senior Lead Anchor in Lok Sabha Television and  is a Director at Excalibur Communication. He published a local newspaper journal ,New Correspondent .
Lt-General (Retd.) Kamal Dawar, PVSM, AVSM is the son of the veteran freedom fighter and Indian National Congress leader, Shri MC Davar. He is an alumni of the National Defence Academy, Khadakvasala, and also holds an MSc in Defence Studies from Madras University, and a doctorate in Security Studies. As a young officer Davar participated in the 1965 India-Pakistan War during which he was wounded in action. Subsequently, he also participated in active operations during the 1971 Bangladesh War. A keen environmentalist, Lt Gen Kamal Devar was the force behind the successful campaign to plant lakhs of trees and clean the Harike bird Sanctury in Punjab.
Madhu Jain was educated  in the United States, following which she did her masters in literature from Delhi University and studied French literature at the Sorbonne in Paris. In the seventies she worked as a reporter for the Statesman, moving towards the end of the decade to Sunday magazine to write on politics, foreign affairs and culture. She was also the New Delhi correspondent with the French national daily, La Croix, for a decade before she joined India Today. She has written for several publications, including Outlook and the Hindu, on contemporary life, art and cinema.
Malavika Sangghvi is the lady the New York Times once described Malavika Sangghvi as 'a chronicler for social mores'. Sangghvi began her career in 1978 with The Times of India, which she soon left to become part of the founding team that launched Mid-Day, Mumbai's first stand-alone tabloid.
Mandeep Rai  gave up IIT to become a creative writer and ended up as an IRS officer in 1973. He penned his first novel at the age of 10, yet produced his maiden book in print only in 1996. He has written several books ranging from fiction to political science. The hallmark of his work is painstaking research.
In the Shadow of the Pines: A story of the Raj chronicles the building of Kasauli and Sanawar through a heart warming love story.
Mani Shankar Aiyar "Every five years, it is the masses who determine who will form the government. And in between those five years the classes determine what that government will do." This is typical Mani, a former Indian diplomat turned politician. An  active member of theMarxist Society in Cambridge, he served 26 years in the IFS and has been a Union Cabinet Minister.He is also a well-known political columnist and has written several books, including Pakistan Papers and Remembering Rajiv, and has edited a four-volume publication, Rajiv Gandhi's India.
Minakshi Chaudhry, a  masters in Journalism, Mass Communication and Law , Minakshi worked with the Indian Express where she wrote a fortnightly column, 'Shimla Roundup'. She is a keen observer of people, culture and lifestyle and is fond of trekking and travelling. Her books include More Ghost Stories of Shimla Hills,
Ghost Stories of Shimla Hills, Whispering Devdars, Destination Himachal and Sunshine.
Navtej Sarna tweets: Looking forward to participating in 1st Khushwant Singh litfest next weekend in Kasauli; fitting tribute, grt location
The author of the novels The Exile and We Weren't Lovers Like That as well as the non-fiction works, The Book of Nanak; Folk Tales of Poland and a translation of Guru Gobind Singh'sZafarnama. His short stories, being published this year in the collection Winter Evenings, have been broadcast over the BBC World Service. He contributes regularly to the Times Literary Supplement, The Hindu and other journals.
A member of the Indian Foreign Service since 1980, he has served as a diplomat in several capitals, as the Foreign Office Spokesperson and most recently, as India's ambassador to Israel.
 Nirupama Dutt
A senior journalist with thirty years of experience, she has worked with leading Indian newspapers and journals. A poet ,she was awarded the Delhi Punjabi Akademi Award in 2000. Her poetry has been translated into English, Hindi, Kannada, Bengali and Urdu.. She is convener of a women's study group called Hamshira. At present she is an independent editor, writer and translator.
Pradip Krishen calls himself an 'ecological gardener'. Which means that he plants native plants wherever he plants, on sea, land or in castles in the air. Amidst a slew of failed or disappointing gardening projects, his most enduring act has been the creation of a desert rock park in 70 hectares of volcanic rhyolite on top of Chidiya Toonk hill in Jodhpur.
This title 'ecological gardener' is also meant to (subtly) ellide or cover over the tracks of a series of earlier avatars as historian, film maker and ecological planner. He regards all of these now as abandoned and best forgotten incarnations.
Pradip Krishen writes about plants and leads small walks in wild, unruly places in and around Delhi on a few Sundays every year. He is the author of  Trees of Delhi: A Field Guide and the forthcoming Jungle Trees of Central India.
He designs furniture with unusual woods and polishes wood for pleasure and therapy. All to do with trees, you see…
Raaja Bhasin, who spends most of the year in Shimla,  is a widely published writer who is considered an authority on Shimla and Himachal Pradesh. Apart from his books, articles and editorial assignments which have received considerable critical acclaim, Raaja Bhasin has been associated with the Indian Institute of Advanced Study housed in the former Viceregal Lodge, Shimla. His recent television programmes include Himalaya with Michael Palin andIndia with Sanjeev Bhaskar.
He has been actively involved with heritage projects like the Kalka Shimla Railway line (now, a UNESCO World Heritage Site) and is the State Co-convenor of the Indian National Trust for Art and Cultural Heritage (INTACH).He has curated a collection of period photographs and artifacts.
Rahul Bose is an actor, screenwriter, director, social activist, and rugby union player.Most important of all, Rahul is a Kasauli boy.
He has appeared in Hindi films such as Pyaar Ke Side Effects and Jhankaar Beats.Time magazine named him the superstar of Indian arthouse cinema for his work in parallel cinema films like English, August andMr. and Mrs. Iyer.
He is also a notable social activist: he participated in the relief efforts that followed the 2004 Boxing Day Tsunami and is the founder of the anti-discrimination NGO, The Foundation. He became the first IndianOxfam global ambassador in 2007. He is also an ambassador for the American India Foundation, the World Youth Peace Movement and Planet Alert.Bose has given lectures on gender equality and human rights atOxford and during the 2004 World Youth Peace Summit.
Bose, an avid Rugby player, is a former member of India's international rugby team.
Rahul Singh has been a writer, journalist and editor of Readers Digest, Indian Express, Sunday Observer.
He has penned, among other books, an engaging biography of his father Khushwant Singh,In The Name of the Father, which was launched by Amitabh Bachchan.
He is an advisor to World Literacy Canada, President of Satyagyan Foundation, India, President of the media awards committee at the Population Institute Washington.
Rahul studied in about 11 schools as his father was posted all over during his years in the foreign service. It was here, at an Elysee in Paris that he picked up his French. He graduated in History from Kings College, Cambridge.
Rakesh Kanwar, an MBA (Public Policy) with a Masters in Journalism and Mass Communication, he is a 1992 batch State Civil Services Officer at Himachal Administrative Services. He is currently  the Director Language and Culture, Himachal Pradesh.
Salima Hashmi is the Dean at the School of Visual Arts, Beaconhouse National University, Lahore. She is an activist, a painter, art educationist, writer and curator. In recent years she has been working on developing closer links with India and working towards a unity group. In addition, Salima taught for 30 years at NCA, Pakistan's premier art institution. She has also curated numerous international art shows. Salima Hashmi is a recipient of The President's Award for Pride of Performance, Pakistan. She also happens to be daughter of Pakistan's famous poet, Faiz Ahmed Faiz.
Shobhaa De, a glimpse thru' her tweets
The Khushwant Singh Lit Fest in Kasauli this October is a brilliant idea.Great way to honour Singh during his lifetime.I am right there!
Suneet Vir Singh is a lady of diverse talent. From running a business of period furniture to authoring books.  Going down memory lane, her husband Mani Shankar Aiyar said: "He (Khushwant Singh) encouraged a young female writer, Suneet Vir Singh, to co-author 'Homage to Guru Gobind Singh'. I decided that the girl, Suneet Vir Singh who co-authored the volume with Khushwant Singh, was the right girl to get married to." Since then Suneet has co-authored other books with her mentor, Khushwant Singh.
Yashodhara Dalmia is a well-known art historian and independent curator. She has written extensively on art and culture and her publications include, among others, The Painted World of the Warlis, The Making of Modern Indian Art: The Progressives, and Memory, Metaphor, Mutations: Contemporary Art of India and Pakistan (co-authored with Salima Hashmi), and Amrita Sher-Gil: A Life.