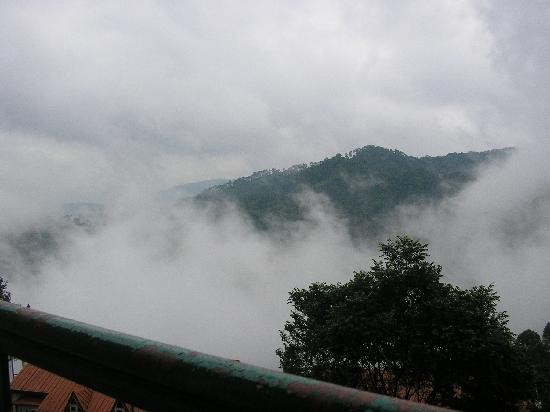 By Rashmi Oberoi
The mystic beauty and charm of Kasauli draws you back again and again. A place, which I personally think, that one could never really get tired of visiting. Away from the maddening chaos and hustle-bustle of city life, this surreal destination is located in the Solan District of Himachal Pradesh and is definitely a nice, quiet retreat. The plus point is that it is just an hour's drive from Panchkula… Paradise on earth available in the shortest possible time.
The pristine air…a fabulously stunning hill station…cobbled streets…hill-sides and valleys scattered with flourishing and colourful wild flowers…the strong smell of pine…thick deodar and dense forests…verdant foliage…snow-clad peaks at a distance and the air as sweet and pure as can be.
The perfect place to walk, walk and walk endlessly. There are numerous trails and nature walks that fill your heart with joy. This is where you see nature's bounty in abundance…untouched and pure. Those passionate about bird watching and photography are indeed in heaven. A major reason for this place to still retain its aura of a bygone period where time has stood still in my opinion is that Kasauli is a cantonment with stringent laws and the good part is that the strict rules laid down are adhered to.
The small hill town still has relics of the British Raj… Quaint buildings… Churches with colonial architecture and stained glass windows… The prestigious Kasauli Club that is one of the oldest institutions and exudes old-world charm… It dates back to the British era and was constructed of seasoned wood but tragedy struck a few years back and it was razed to the ground. The new club is more modern but exquisitely charming and lavish. The Bar is tastefully done and a refreshing place to retire at the end of the day.
Even though Kasauli has not gained much attention as a tourist destination, it is a must-do for those who yearn for peace, solitude and family time. Those who are looking for action and thrill, this is definitely not the place for you. During off-season, it would be quite natural to not even bump into a soul for miles. It is definitely an idyllic setting for great R&R.
My favourite hang-out place in Kasauli is the Gilbert Trail around the Gilbert Hill that belongs to the Army. It's an off-beaten track with a profusion of wild flowers, greenery, and thick forests of pine, oak and horse-chestnut. The air is fresh and echoes of quiet serenity. The silence is only broken by the calls from birds and chattering of squirrels and monkeys. Sunset Point offers a magnificent view of the twinkling lights of Chandigarh at night and on a clear day, a panoramic view of the nearby hills.
Old time residents, many well-known personalities and retired army personnel have beautiful cottages here. Neatly kept, with immaculate gardens, vines and wild rose creepers hanging like tresses, and an array of flowers add colour and charm to the town. The salubrious climes of Kasauli ensure pleasant summers and cool winters with an occasional snowfall. Monsoons have their own beauty as the mist surrounds you in minutes and clouds that engulf you like soft cotton.
The Mall has a few established shops that go back in time… Small shacks attract you with steaming hot tea and an assortment of 'pakoras, samosas and bunsams'. Foodies have a difficult time as good eating joints are far and few. Dharampur is the nearest 'gastronomical hub' or one can manage in the local cafes and restaurants. Like all hill stations, local businesses wind up after dusk, so grab your dinner early or go to bed hungry!! Early to Bed and Early to Rise… Makes a Man… Healthy, Wealthy and Wise = Motto of Kasauli!!
There are a few touristy things to do and places to visit in and around and famous landmarks like the Central Research Institute, the Kasauli Brewery… Then the famous Christ Church and Baptist Church, Gurudwara Shri Guru Nanakji, and the Hanuman Temple at Manki Point. And of course, Kasauli is known for its educational institutions and boast of well-known establishments like The Lawrence School, Sanawar, and St. Mary's Convent School. Dagshai, Subathu, Solan and Chail are also in close proximity. The only shopping to be done here is the local wine and pickles and jams or some knick-knacks from the road-side shacks.
So all in all, for me it is a break from the humdrum of city life and a place to recharge and soak in the sounds of nature, breathe in fresh air, walk in clean surroundings, get lost in the misty ambience, enjoy the spectacular views, take long walks and revel in the peace and solitude. And then, slowly albeit reluctantly, you make your way back into the reality of everyday routine as that just doesn't let go of you that easily!
Source – The Citizen